Gate Automation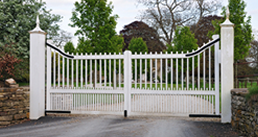 How often have you seen vans slowing down and checking out your driveway or avenue. The products and services we provide are a great way to deter and stop these opportunist thieves, as well as keeping children or the family pet away from the road.
Working in partnership with a gate manufacturing company we can design, build and fit automatic gate systems to suit your home or business. We can also retrofit motors to your existing gates and fit an intercom and keypad for secure access.
If you are having problems with your existing system remember that your automatic gate system should be serviced annually. Rain, frost and insects
can cause a lot of damage if the system was not installed properly in the first place. Call us for a service today.
Old and broken remotes can be replaced, or alternatively have a GSM receiver fitted. This system allows all programmed users to access the property via their mobile phone. Simply ring the designated phone number and if you are an authorised user the GSM will open the gate for you. There is no charge for the call and no subscription fee.It is a very cost effective way to control access to you property if there are many users of the access points.